Buy Shit

At Berget 14 the "Viper Crankshafts" a group of local car enthusiasts set up a new shop in town. Under the trademark "Buy Shit" they sold all the good shit in the area. Shit like "Golche Da Bana" Sun glasses and "Luchi" hats was attracting many visitors to the shop. But soldiers often came for the food, that was some good shit made by Ivan Ivanowski's mother, a Russian cook that makes only the best shit.

The Owner and official Viper Crankshaft leader "Ricky Spike" (Just call him "Spike") has this to say about the new franchise: Quote "The shop that is mostly run by Ivan, only sell the best shit! I personally buy all my shit from the shop.".

In the shop the two very loyal members of Viper Crankshafts "Wulff" and "Burger" can also be found selling the Shit. So feel free to stop buy an buy some shit from us.


Members of the Buy Shit shop: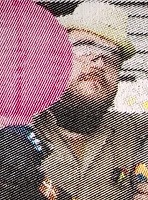 Supported by:
Viper Crankshafts